Russian Way Into the New Millennium.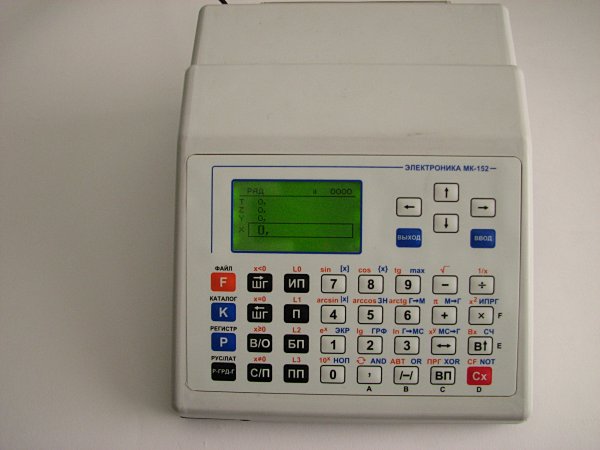 Hello from Civil Hackers' School, Russia. Today we'll speak about «Electronica MK-152» — Russian programmable calculator, whose appearance was like big "BANG!" for the whole Russian and Ukraine Internet community. In a few days two pictures of MK-152 (mine and from developers site) like computer virus spread from one blog to another, like snowball from one news website to the next. Its portable version got a name «Electronica MK-161» and available since 2009, see comparison table below.
There were only two English articles about MK-152 (1, 2). Both authors haven't tested MK-152, and saw it only on our pictures. Both articles were based on each other and poorly translated gossips from Russian people, who also haven't seen MK-152. None of them went deeply into technical details or cultural background. So its time to present our newborn for the Internet community and give few firsthand words from «Electronica MK-152» owner.
The philosophy of MK-152 came from Academician A. P. Ershov (1931-1988), pioneer of Soviet computers, mainly from his keynote speech "Programming, the second literacy" at the 3rd IFIP/UNESCO World Conference on Computers in Education, Lausanne, 1981. Since the Summer of 1981 his words "second literacy" became winged.
Andrei Petrovich compared the ability to write program with the ability to write and introduced thesis, that "the second literacy is not only the ability to write computer instructions, but also the way to bring up a man who is resolute and prudent at the same time" in the context, that books of our future could include not only text, but also programs to give readers both knowledge and experience. This Russian idea looks complementary to modern western approach of "computer games", where texts are used inside programs as something secondary and unimportant, that could even be skipped by "clever gamer" in a hurry.
Nowadays we have many books with computer programs inside, I just ordered one of them from Amazon. But those short-lived books are mostly focused on some computer device (mine is devoted to Python translator for Nokia smartphones, that changes every few years). Such western books could be bestsellers, but couldn't became classical.
The idea of Andrei Petrovich is deeper, his stroke of genius outlived his century and went further into the Millennium. The first writer, who fully understood his idea, was Soviet science fiction writer Mikhail Puhov (1944-1995), also from Siberia. Being inspired by Ershov's scientific genius, he wrote classical sci-fi novel "Returning to the Earth" (djvu in Russian). This novel was published in "Tehnika-Molodyozhi" magazine (the same magazine, where another Russian classical sci-fi Andromeda Nebula was first published) and illustrated with programs for Soviet programmable calculators, that were written by author and checked by Soviet cosmonaut U. N. Glazkov — flight engineer of Salyut 5, Soviet space station. With the help of this little pocket computers we, Soviet youth, made our first space adventures with Puhov heroes, and of our own.
The novel pictures free society with developed space traveling and became like a heartsong of nostalgia for many Soviet patriots, disappointed by globalization of Russia. "Returning to the Earth" nowadays sounds like returning to the earth of our ancestors. To the Soviet Union, that developed space traveling for the whole humankind, but was betrayed and destroyed by people, fallen for foreign money and American "sex", the love-killer.
Like in all Russian classic, the plot of the novel have nothing to do with money, sex desires or killing. You will not find any "fleet" or "blasters", the closest to military action in this science fiction novel is a single cultural reference to Star Trek computer game. It is more about bravery, friendship and space adventures of free people in the world of their own, with a good sense of humor and no politics at all. Programs for Soviet calculators, that were written together with the novel, made this plot a part of our personal, but common experience.
MK-152 supports language of those old Soviet PMK, breathing a new life into the famous Russian novel of Mikhail Puhov.
Tech Side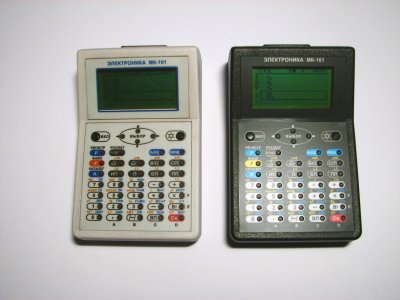 Of course, MK-152 is not just a clone of those 20-year old personal machines. MK-152 has 100 times more memory and 1000 times faster. In fact, MK-152 could be compared with the best calculators of HP and TI, but only by its speed and fanbase. Programming language is more brutal, to benefit from the great software library, already developed for Soviet calculators.
Soviet models could display 12 digits (and five special characters), graphical "black on green" screen of a new model can display digits, Russian and English letters, a set of special characters and monochrome computer graphics. Keyboard is almost the same. The most important improvements are a new prefix key "P", four directional keys and two menu keys (Enter and Escape). Traditional radian/degree switched became a separate button.
Instruction set was almost untouched, but expanded to deal with larger memory — something similar Z80 made to 8080/85 in "United States". Most efforts were put into increasing service of firmware. Now one can see not only instruction code (in real hex!), but also instruction mnemonics. The entry language uses reverse-polish notation and resembles the language of HP-12/HP-15, that were more common outside Russia in 80s.
English-speaking world will be happy to hear, that MK-152 could be programmed not only in traditional Russian notation, but also has special mode with English notation. Novosibirsk published a compiler MK.EXE (ru), that can help:
to write programs for MK-152 in English notation (you can use labels)
to compile them into hexadecimal bytecode
to transfer programs to and from MK-152 via RS-232C interface (COM-port)
Now, with the help of PC, we can share our MK-152 programs via Internet! Thats a major step from Soviet times, where selected programs for Russian calculators were published by several central magazines.
The drawback is that keyboard is still in Russian (Cyrillic) notation. People, who are fond of Russian culture, can get used to it, because there is one-to-one conformity between Russian and English notations. At all Russians get used to calculators with English buttons.
One can attach devices to MK-152 with the help of its parallel and serial ports. MK-152 uses Centronics and RS-232C interfaces, Russia nowadays has plenty of dirt-cheap second-hand equipment to connect with. MK-161 has RS-232C interface, but only few lines from Centronics were left. Manufacture sells special devices with relay, that make connection of external equipment to MK-161 and MK-152 an easy task.
MK-152 is full of original Russian spirit. Programs for MK-152 are openly shared in the community. No DRM is included. All specifications, charts and instructions of MK-152 are freely available on developers website (sorry, on Russian language, but one can hire translator). MK-152 and MK-161 will not force you to pay money for batteries or trouble about how old is your accumulator. It was made to support Russian culture, not to make money from you. You just plug MK-152 into the wall outlet (220V, European outlets are okay) and play with it.
Russia is a country, where electricity isn't stable everywhere. Thats why MK-152 has non-violative memory to hold everything, that was entered via keyboard — both programs and data. Build-in big electronic disk could keep hundreds of MK-152 programs, and external disks could be ordered separately for about $5 each. Modern MK-152 models and all MK-161 can be upgraded via flash ROM, have API for user programs to access files in internal and external drives, GUI system, etc.
MK-152 also came from Siberia. I don't know, whether Novosibirsk wants to ship MK-152 with traditional Soviet instruction set directly to other countries. Not everyone are too happy about foreigners nowadays, with all they did to Soviet Union. But some big reseller, I think, could talk developers into reselling models of the only Russian calculator to amateurs from other countries. A couple of MK-152 are known to be sold on ebay.
Tech Spec
The pilot models of EKC (Electronic Keyboard Computer) doesn't respect Moore's Law. One can understand MK-152 only in comparison with the last Soviet model, MK-52 (See also MK-52 and MK-161 pages on RSkey.org). Twenty years gave a great progress to the legendary Soviet line:
МК-52 (MK-52)
МК-152 (MK-152)
МК-161 (MK-161)
Number of decimal digits,
displayed (total)
8 (8) + 2
8 (14) + 2
8 (14) + 2
Number of basic commands
229
242
242
Instruction length
1 or 2 steps
1, 2 or 3 steps
1, 2 or 3 steps
Instruction mnemonics
Russian
Russian, English
Russian, English
Address modes
register,
indirect,
indirect-autoincrement,
indirect-autodecrement
register,
direct,
indirect,
indirect-autoincrement,
indirect-autodecrement
register,
direct,
indirect,
indirect-autoincrement,
indirect-autodecrement
Number and size of stack registers
4+1, 8+2 digits
4+1, 14+2 digits
4+1, 14+2 digits
Number and size of decimal registers
15, 8+2 digits
1000, 12+2 digits
1000, 12+2 digits
Number of byte registers
No
7168
7168
Electronic notebook capacity
No
65536, 12+2 digits
65536, 12+2 digits
Electronic disk capacity
1024 nibbles (512 bytes)
524288 bytes
524288 bytes
File system
No
Yes, hierarchical
Yes, hierarchical
External disk support
Read-only (ROM)
Read, write
Read, write
Maximum program length
105 steps
10000 steps
10000 steps
Procedure stack size
4
64
64
Display resolution
12 digits, green LED
128x64 dots, monochrome LCD
128x64 dots, monochrome LCD
Serial interface
No
RS-232C compatible
RS-232C compatible, SPI
Parallel interface
No
Centronics, EPP, Static
Static
Proprietary interface
Yes, not documented
Yes, documented
Yes, documented
Other interfaces
No
No
A/D
Paperback manual
Included, Russian
Included, Russian
Included, Russian
Communication software
No
Downloadable for free, for Windows and wine
Downloadable for free, for Windows and wine
Cross-compiler, decompiler and other developer tools
No
Downloadable for free with source code, for Windows and GNU/Linux
Downloadable for free with source code, for Windows and GNU/Linux
CPU model
К745ИК13 chipset (original)
W77LE516 (MCS-51 series)
W77LE516 (MCS-51 series)
CPU frequency
455 KHz
22 MHz
22 MHz
Internal bus width, bits
1 bit (serial)
8 bit
8 bit
Development, city
Government, Kiev
Commercial, Novosibirsk
Commercial, Novosibirsk
Years of production
1983-1991
2007-nowadays
2009-nowadays
Size
212 х 78 х 42 mm
250 x 180 x 75 mm
95 x 160 x 50 mm
Weight
250 g (w/o batteries)
900 g
350 g (with cell)
Batteries
4 x AA
No
Internal rechargeable cell
External power
AC adapter 220V
AC adapter 220V (built-in)
AC charger 220V (external)
Price
115 Soviet rubles (about $190)
3800 Russian rubles (about $125)
4700 Russian rubles (about $155)